There are only 500 pieces, carefully numbered, certified and handcrafted. This gives you the idea of ​​the exclusivity of the Bardi's Bowl Chair, an object of desire for design lovers, now produced in a very limited series by Arper and available on our SHOP in a purple fabric version with red cushions.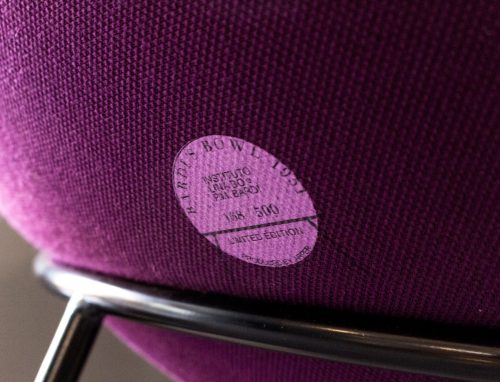 The Bowl Chair is not simply a chair. Designed in 1951 by the Italo-Brazilian architect Lina Bo Bardi, it is the emblem of a nonconformist comfort: its structure favors a natural and relaxed posture, which invites an informal life, open to relationships. Design becomes a tool to build a new relationship between man and things.
Lina Bo Bardi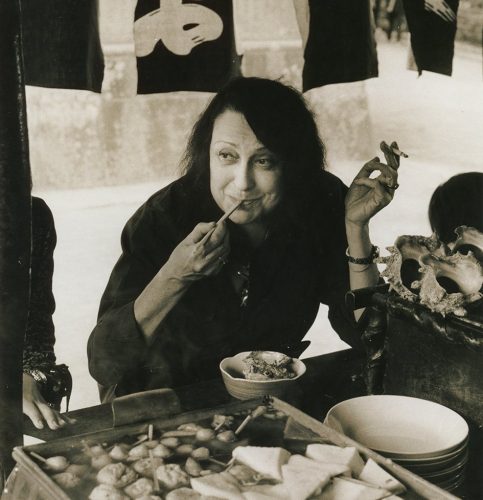 The long and eclectic career of Bo Bardi is characterized by a strong social commitment and by the desire to put man and his relationships at the center of every project. In Brazil, her adopted land, Lina, born Achillina Bo, is considered a beacon for dozens of young designers. In Italy his figure is less known, but the meeting between the two cultures makes his work unique.
The European Modernism and the Brazilian soul are combined in her works, that are characterized by sober style, simple lines, liveliness of colors and exuberance of nature.
La Bowl Chair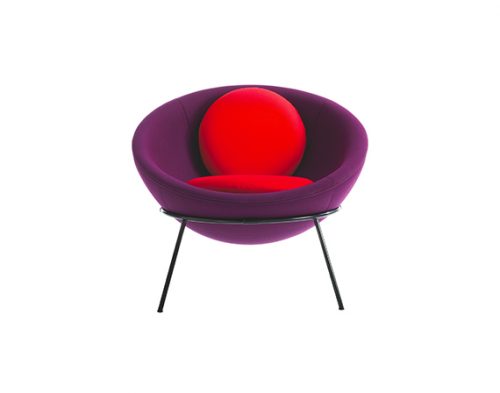 A synthesis that is perfectly reflected in the Bowl Chair, an object with a structure and an essential, accessible, flexible, sinuous shape, capable of integrating – and enhancing – harmoniously any environment.
The Bowl Chair is a hemispherical seat resting on a metal ring structure, supported by four legs. There are only two examples of the original project: the first one, in black leather, made by Bardi in 1951 for her house, Casa de Vidro, in Sao Paulo, Brazil; the second, later, smaller and with bright red cushions. Alongside these two versions there are the numerous sketches of the architect that provide different shades of color.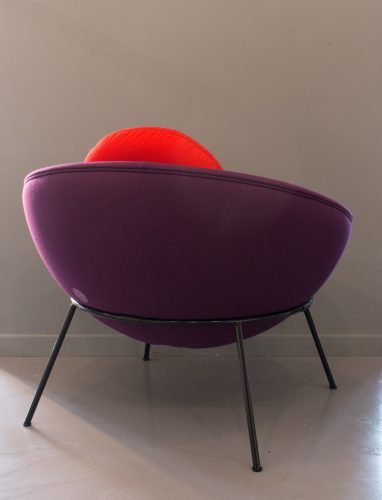 Il progetto Arper
It was from here that Arper, an Italian design company founded in 1989, decided to tackle the process of industrialization of the famous session. The result, result of an intense dialogue with the Instituto Lina Bo and P.M. Bardi, are the 500 collector's items that include a black leather variant and seven fabric color variations, each combined with different sets of cushions in the same color as the body, in two nuances or decorated with patterns inspired by Lina's original designs Bo Bardi.
On our SHOP you can find one of the 500 limited edition pieces, in a purple fabric version with red cushions.
Create your account on Deesup and start selling or buying second-hand design icons! You'll be able to manage your products and orders and update your data.